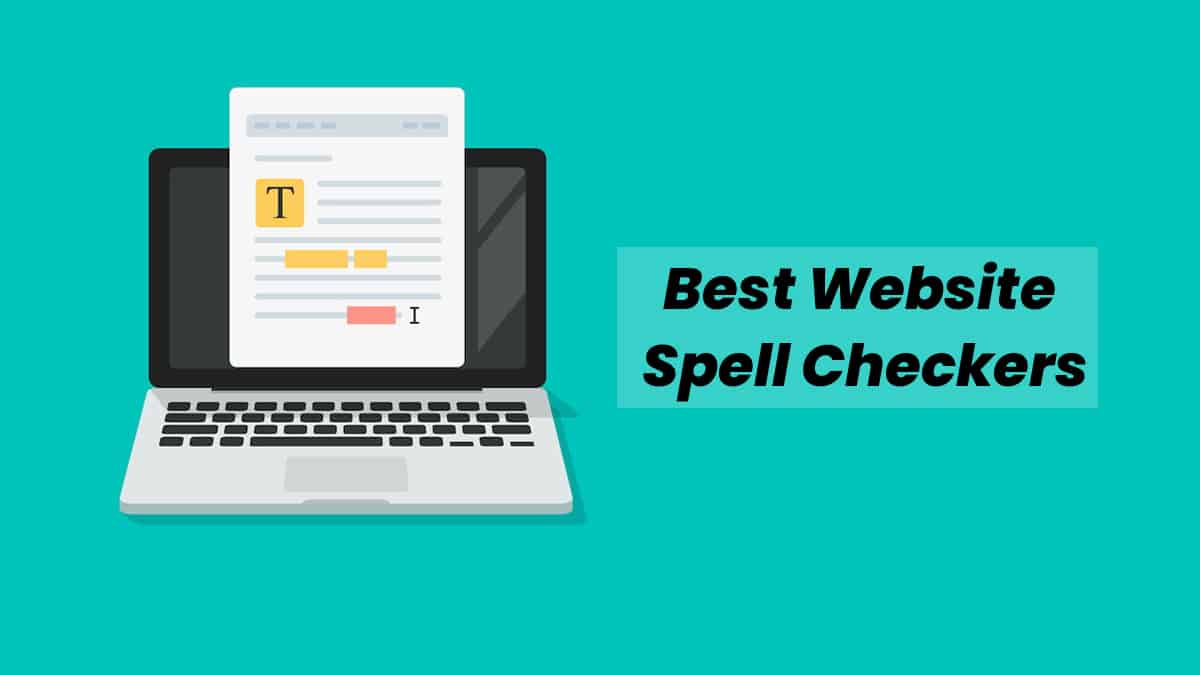 20 Best Website Spell Checkers & Grammar Tools in 2023
Content Marketing. - Leave a comment
In today's age, content creation has become more accessible and much needed. Whether you're crafting an important email, writing a blog post, or creating a social media caption, having polished, error-free content is vital. However, even the best writers can make mistakes, and typos can slip through the cracks. That's where website spell checkers come in. These tools can help catch grammatical errors, spelling mistakes, and also suggest ways to improve sentence structure. In this post, we'll explore some of the best website spell checkers available to help you create error-free content and take your writing to the next level.

What is a Grammar and Spell Checker?
A piece of software or software that checks for grammar and spelling errors in text is called a grammar and spell checker. While some grammar checkers may edit content as you write, others may highlight awkward phrases or misspelled words for your review. Many editors will even go through your text line by line to find passive sentences, paragraphs that are too long, or other complicated mistakes that even a sharp human eye might miss.
If you hire a web copywriting service, their writers will run all grammar and spell checks to ensure the content is error free. However, if you write a lot of content every day, using a grammar checker can give you some peace of mind. You will never again misspell a simple word on a huge event poster or leave out the "o" at the end of "hello" by accident, which is embarrassing. You can concentrate on writing down your thoughts and submitting them by the deadline with the assistance of this software, which can help automate editing.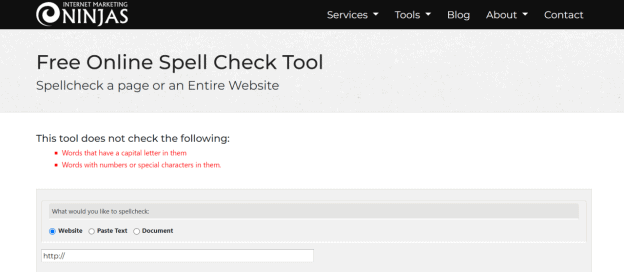 You can check for spelling mistakes on your website, in documents, and in copied text with the free online spell checker provided by Internet Marketing Ninjas. Internet Marketing Ninjas, like Google's PageRank algorithms, consider typographic errors to be "poor content." As a result, it offers a spell-checking solution that only requires you to copy and paste. However, it does not check words that contain special characters, numbers, or capital letters. You have three options for spelling check: by pasting a text block, uploading a document, and the URL of a website or webpage into the box.

You will be able to improve the quality of your content as a result of the result. You can look over the list of misspelled words that the tool finds to see if they were actually misspelled or if they were just unique terms or names that are only associated with your website. The maximum number of web pages that can be checked with this free online spell checker is 1,000. Sadly, each user of this website spell checker tool can only perform five checks per day. A redirects and site crawler, an image and link analyzer, an on-page optimization tool, and a social image resizer are among the other IMN-featured tools.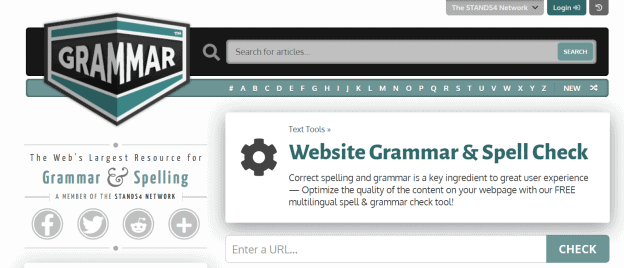 This tool helps you check your website's spelling and grammar, as the name suggests. It is completely free and does not require an account. Simply enter the URL into the input box, select the language in which the website is written, and click Check to perform a grammar and spelling check on your website. Websites in 38 different languages, including American English, British English, French, Spanish, Chinese, Italian, and Dutch, can be checked using Grammar. In addition to checking websites, another section of Grammar lets you copy and paste texts, view explanations for highlighted spelling or grammar errors, and use the suggestions to improve your writing. Additionally, this can automatically detect 38 languages.
Grammar offers "all the grammar you need to succeed in life" and enhances your writing with free grammar and spell checkers, articles, tutorials, vocabulary games, eBooks, and a lot more, according to the company. You can edit emails, blog posts, messages, documents, webpages, and more with its Chrome extension. When you add it to your desktop, all you have to do is select the text you want to check and click on the icon. A window with suggestions for errors in the text will open up.
Also Read:THE EPIC GUIDE TO INCREASING SALES THROUGH CONTENT MARKETING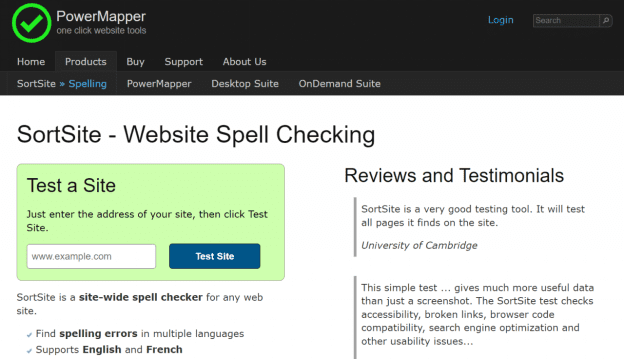 PowerMapper's SortSite is a tool designed solely for website spell checking. It is made to find spelling mistakes on websites in several languages, including French and English dialects. You can change the default spelling language for web pages and customize the dictionary with unusual words like coined names, domain names, and product names to make SortSite work better for you. Checking for broken links, accessibility testing, and browser compatibility are all advantages of SortSite.
All Mac and Windows platforms are supported by SortSite. It is usable on internal, public, and staging websites. You have the option of signing up for one of the three SortSite plans for a single user and using it forever, or you can use the free trial, which only scans ten web pages at once. SortSite Standard costs $149, SortSite Pro costs $349, and SortSite Developer costs $849, but you can upgrade for a fee. Each plan includes a perpetual desktop license for each user and unlimited scans of up to 22,000 pages. On PowerMapper, you can look at the specific packages for each version to choose the best one. In addition, the policy offers a 30-day money-back guarantee.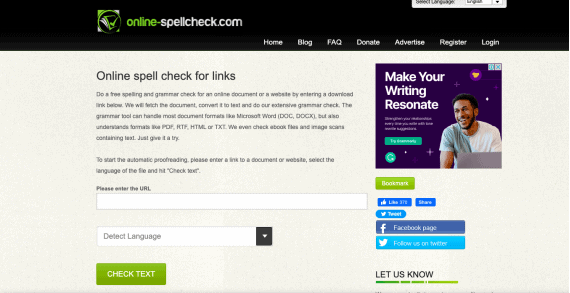 This is a free online tool for correcting spelling and grammar in online documents or websites. Simply select the file's language, enter the link to the document or website you want to proofread, and click Check Text. Scan documents in the DOC, DOCX, PDF, RTF, HTML, and TXT formats. It also checks images that contain ebooks and text.
Online Spell Check provides examples and in-depth explanations of the possible spelling or grammar errors.
You can send your text to yourself in PDF, RFT, HTML, or TXT format or share it with others using a provision. Small business website owners, professionals, students, bloggers, and writers, especially those who don't write in their native tongue, all benefit from this tool. You can upload your document from the cloud, such as Google Drive or Dropbox, and have it scanned to view the corrected text immediately.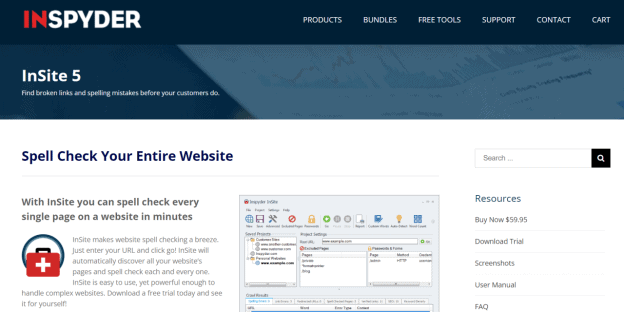 Inspyder developed the website spell checker InSite 5, to identify broken links and check for misspelled words. Additionally, it can be used as a YouTube link checker, automatic website reports, on-site SEO analysis, keyword density analyzer, and website word counter. You need to download it to your desktop in Windows. After downloading, you can use the free trial or pay $59.95 for an unlimited subscription to get access to unlimited spell checking. InSite 5 is proud of its ease of use and ability to manage complex websites.
InSite 5 will disregard all of your "web" text, including email addresses, file names, Twitter style tags, and file names. However, meta tags, page titles, and other search engine-visible content that you may not have checked can be checked by InSite 5. It is possible to add custom terms like proper names and brandable words to its dictionary. It works with the CMS WordPress, SharePoint, PHP, Joomla, ASP.NET, and other platforms. Content in HTML, RTF, and PDF are also checked. Additionally, you can set it up to log in to websites that require a password.
Also Read: TOP 10 MISTAKES IN CONTENT DISTRIBUTION (AND HOW TO AVOID THEM)

Using a multi-threaded algorithm, this tool developed by Webtweaktools lets you simultaneously check spelling on multiple web pages. You can get the results in HTML, Excel, XML, and TXT formats, which helps you save time. Website Spell Checker needs to be downloaded to your Windows desktop; However, instead of a one-time subscription, it offers a yearly package that includes support and updates.
One year is available for $39.95, two years are available for $49.95, and three years are available for $59.95. It offers a 30-day refund policy. You can install a dictionary in any language because this tool supports open dictionaries. Form login and password-protected websites are supported by it. A website crawler with a lot of features is also included.

Datayze makes use of a bot called Datayze Spider, which free of charge crawls through your website and finds spelling errors. You should click Analyze after entering the URL of your website into the white box on the website. Each user's Datayze Spider crawls no more than one thousand pages per day. You can put it on hold and continue another day when it reaches its limit.
Additionally, the Spider does not keep track of the number of requests you make but rather the number of pages scanned. The spider covers just one page in 1.5 seconds. In your robots.txt file, you can set restrictions for the Spider that allow or prohibit it from crawling on a page.

The Screaming Frog SEO Spider can find errors, broken links, and redirects with a paid subscription. It can spot spelling mistakes in page titles and metadata, just like other website spell checkers. It's interesting to note that the Screaming Frog SEO Spider can crawl an unlimited number of websites. Additionally, the Screaming Frog tool is able to generate XML sitemaps, configure crawls, save crawls and re-upload them, and identify content that is nearly duplicate.
You can configure the spelling and grammar checks to ignore words, ignore grammar rules, change language, add to a dictionary, and define the content that is used. Additionally, it explains the error and offers recommendations for its correction.
Screaming Frog can be downloaded for free, but premium subscribers must pay £149 per year to use the spell-checking feature. For £119 per year, you can buy a license for up to 20+ users.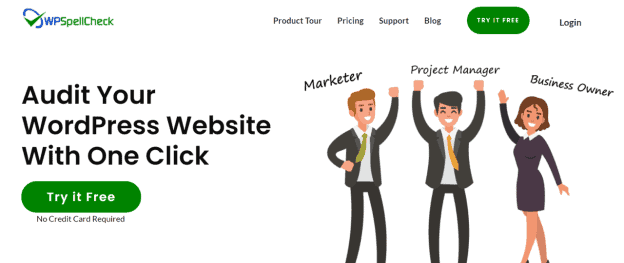 The WordPress spell check plugin WP Spell Check checks for spelling, grammar, broken links, and SEO with just one click. Small businesses, agencies, and even corporate websites can use it. You can save time proofreading your WordPress websites with WP Spell Check and receive email notifications whenever there are shortcode or HTML code errors on your site.
This tool can simultaneously monitor multiple WordPress websites. In addition, it works in the background to find spelling errors. Despite its limited benefits, this spell-checking tool allows you to use it for free without entering your credit card information. You can sign up for any of its three annual packages that pique your interest. Agency costs $299, Developer costs $99, and Site Owner costs $49.

Over 20,000 people use the Chrome extension Webpage Spell-Check from the Chrome Web Store. It is a popular instant spell check for website developers. It makes checking for spelling mistakes directly on a webpage easier. Webpage Spell-Check can assist you in identifying errors that it may have missed, even if your HTML editor supports Spell-Check. You can also turn it on or off on your website to see your mistakes in real time.
It allows you to edit spelling errors that are detected directly on the web page once it is added to your Chrome-based web browser. Fortunately, this Chrome extension add-on is frequently updated; As a result, you won't have to worry about using a version that is too old.

You can use this Google Chrome extension tool to check for spelling errors on any website. It has over 100,000 registered users. It lets users check their spelling in English, French, Italian, Spanish, Finnish, German, Dutch, Danish, Polish, Russian, Swedish, and Portuguese, among 12 other languages. Its spell edit interface is simple to use, and you can change the color and shortcuts. Spell Checker for Chrome supports Chrome content menus and users' dictionaries. When it is updated on a regular basis, new languages are added and the languages that are already there are improved.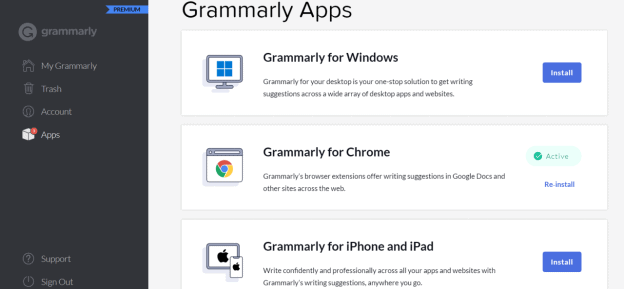 Grammarly, in contrast to other spell checkers, does not utilize a scan tool to examine websites. You must copy and paste the content you want to check onto the Grammarly website in order to use it. Signing up with your email address is required. Grammarly has a keyboard that you can download directly to your Android devices from the Google Play Store. It checks your content for spelling as you write it and offers suggestions and word alternatives. Additionally, there is a desktop Chrome extension that makes it simple to check for spelling mistakes on webpages using Chrome.
The online grammar checker provided by Grammarly can identify any kind of grammatical, punctuation, or spelling error. Additionally, it features a plagiarism checker that can locate instances of plagiarism in texts. Individuals can use it for free, offering only basic writing suggestions. The Premium plan is available to individuals, and the Business plan is available to groups of three to 149 people. The Premium plan can be paid for every year ($144), every three months ($60), or every month ($30). Annual subscriptions, which are the most popular, save you 60%. Members pay $12.50 per month for the Business plan.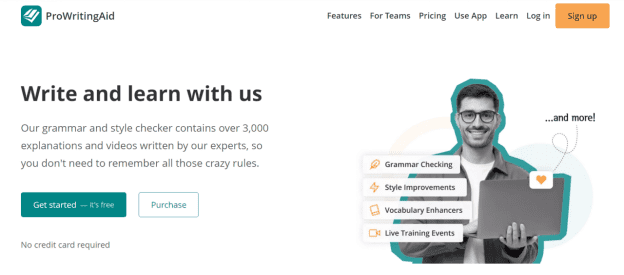 An online style editor and grammar checker for writers and content creators in general is ProWritingAid. In addition to assisting you in quickly correcting grammar and spelling mistakes, optimizing word choice, and correcting punctuation, this editing software also provides detailed reports that will assist you in improving your writing abilities. It is integrated with WordPress, Gmail, and Google Docs. Additionally, the style and terminology recommendations this software provides can improve writing.
In addition, the platform provides instantaneous in-app explanations, recommendations, quizzes, videos, and articles to support your writing development. ProWritingAid is compatible with the majority of web browsers in addition to Google Docs, Microsoft Word, and MS Outlook. There is a desktop application for both Windows and Mac. The platform's web-based editor also allows users to upload documents. You can access a basic browser extension that checks spelling and grammar online and a web-based grammar checker that can check up to 500 words.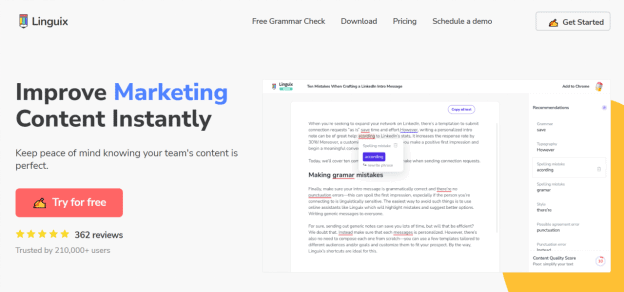 Linguix looks for mistakes in your writing and suggests the best grammar, punctuation, and style for the situation. The tool does more than just spell checking; it also offers more than 2700 advanced corrections for a wide range of issues, including style and grammar. Linguix provides comprehensive explanations for common mistakes and suggestions for improving the appearance and readability of academic and personal projects as well as business emails. The web app has a secret mode for editing content that is private. You are able to make changes in this mode, but as soon as the document is finished, all of that data is deleted.
The browser extension aids in the correction of writing errors everywhere on the internet, including email, professional content creation software, messaging apps, and Google Docs. Snippets can also be created by Linguix retail and business users to speed up writing. These are draft texts that are used to automate repetitive writing activities like sending introductions or scheduling a meeting. Users can use the built-in vocabulary suggestions to colorize their writing. Simply use the "Look Up in Linguix" feature to instantly obtain the definition. Linguix Premium is free to use for users. Access to basic writing corrections is available in this mode.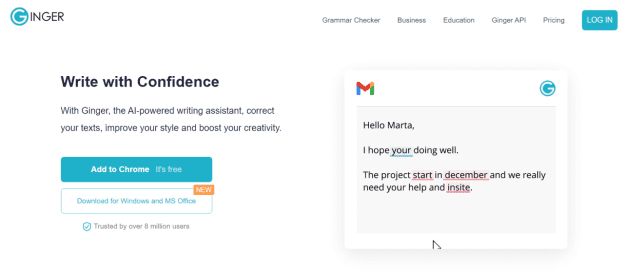 Ginger is a grammar and spelling checker system with punctuation, grammar, and spelling tools that help users write faster and better. Ginger provides a variety of additional features in addition to the standard editing tools, such as a text reader, sentence rephraser, dictionary, a translator that supports more than 50 languages, and it also has a personal trainer feature which assists you in improving your English.
Ginger lacks a plagiarism detection feature, which is a major drawback. Additionally, when compared to its rivals, the reporting is rather sparse. Ginger is compatible with Outlook, Microsoft Word, and PowerPoint and can be downloaded directly into Google Chrome or Safari. It also has an Android and iOS app, as well as a desktop app that is compatible with Windows and Mac OS X. With 40 languages available as browser add-ons, definitions, and translations, the free version only allows 14 checks per month.
Ginger offers a free plan with some restrictions as well as a premium plan.

PaperRater is a web-based application primarily intended for college and high school students. PaperRater corrects spelling and grammar mistakes in essays and papers. It also gives you advice on how to improve your writing by comparing it to that of other students with the same education level. Passive voice detection, sentence length and variation, vocabulary usage, and phrases to avoid are all emphasized. In addition, PaperRater provides readability statistics and an automated essay scoring system to provide you with a rough idea of your teacher's possible grade.
Additionally, this tool looks for plagiarism. The search indexes of the two most widely used search engines, Google and Bing, serve as the foundation for the plagiarism detector. Additionally, your text is compared to more than 10 billion documents, according to their official website. PaperRater analyzes submitted texts in real time with an advanced AI system and data science to provide almost immediate results. There is no need for users to register, log in, or download anything. There are free and paid versions of PaperRater. PaperRater's website is the only way for users to access it because there is no mobile support.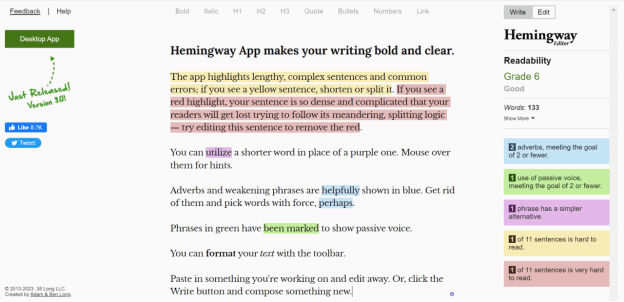 The grammar checker software known as Hemingway App is available as either an online editor or a desktop application. Hemingway App, in contrast to the other grammar checkers on our list, does not offer in-depth grammatical lessons. Instead, it evaluates your text's overall readability and assists you in improving your writing style. Instant feedback will appear in the sidebar on the right side of the page as soon as you write or paste your text into the editor. The number of letters, characters, words, paragraphs, and sentences in your text, as well as its estimated reading time, will be provided to you.
Additionally, the app uses a variety of colors to suggest changes to the text. Adverbs and weak language, for instance, are highlighted in blue, while run-on sentences, complex sentences, and dense sentences are highlighted in red. Finally, the Hemingway App provides you with a readability score to indicate your text's reading level. The Hemingway App's online version is free. If you want to use their desktop app, which is available for Android and iOS, you only need to pay a one time fee of $19.99.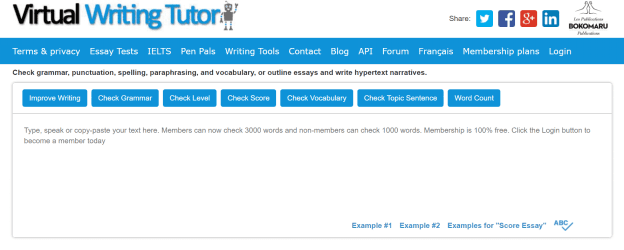 Virtual Writing Tutor is a free online essay checker that has many useful features. It corrects grammatical errors like double negatives, collocation, missing auxiliaries, tense shifts, and more when it checks for grammar. In addition, it corrects contextual spelling errors as well as erroneous cognates, word choice, and punctuation. It can look at your vocabulary to help you avoid using power words and clichés and build more cohesive sentences. It can offer suggestions for vocabulary that is common, academic, or related to your field, depending on how you write. A paraphrase checker, which is essentially a plagiarism checker, is also included in this tool.
In addition to comparing two texts, it calculates a score based on their similarities.
Additionally, Virtual Writing Tutor includes a pen pal exchange, feedback and links from previous grammar checks, and a grammar checker forum. You can automatically score and provide feedback on writing projects you create for students using the pen pal exchange. An iframe code that can be found on the website allows you to incorporate this tool into your blog, website, or Moodle course. Virtual Writing Tutor is a free tool.
Members with a free account can proofread texts up to 300 words, while non-members can only proofread texts up to 500 words.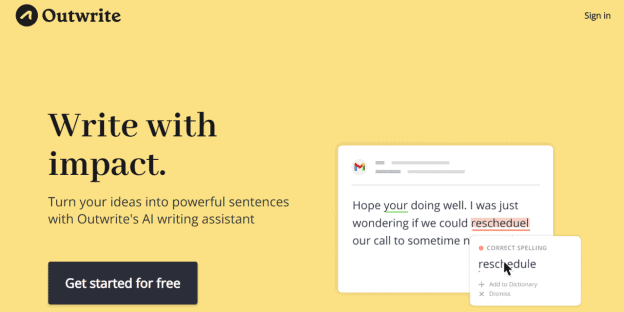 Using advanced suggestions for grammar, spelling, and rephrasing, Outwrite, an AI-powered grammar and plagiarism checking tool, can help you write better. You can sign in from any browser because it is available online as a web app; however, there is no desktop application. Outwrite also has Chrome, Microsoft Word, and Google Docs extensions, and its iOS-only mobile app is currently only available.
The AI Eloquence Engine is a great Outwrite feature. It looks over your text and gives you advice on how to make it better by removing erroneous words, making sentences shorter, and avoiding passive voice. Additionally, the Pro plan includes a very effective plagiarism checker that permits 50 checks per month. In multiple languages, users can check for plagiarism, improve phrasing, and correct grammar. There are three Outwrite plans: Teams, Essential, and Pro. The Essential plan is free.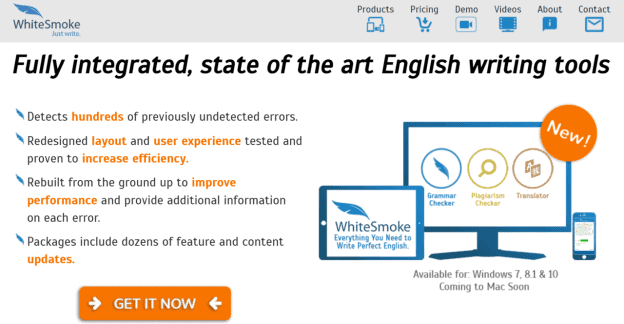 WhiteSmoke is a comprehensive grammar checker that works with the majority of browsers and integrates with Mac, Windows, and other devices. The mobile application is compatible with both Android and iOS devices. It has a unique translation feature in addition to a grammar, spelling, style, and punctuation checker. WhiteSmoke makes it simple to communicate regardless of where you are by providing full-text translation to and from more than fifty distinct languages.
WhiteSmoke includes a plagiarism checker, video tutorials, error explanations, and a translator and dictionary for more than 50 languages. Its products use AI and unique algorithms for text analysis and are based on NLP (Natural Language Processing) technology. The online writing service offered by WhiteSmoke does not offer a free trial. You can only start with paid packages. For one-year or three-year billing periods, WhiteSmoke offers three distinct pricing plans: Web, Business, and Premium.
Things to Check While Selecting a Grammar and Spell Checker
Writing is considered to be art because it demands perfection on every level. Grammar is the master who carves writing, if writing is an art. You can select the best grammar checker for your needs by following these steps, as there are numerous grammar checkers available to you.
Compatibility Check
Grammar checkers should always work with any device or operating system. Grammarly is a great illustration of this. It is an excellent grammar checker that can be utilized on a variety of systems and devices and has extensive compatibility. It works flawlessly with iOS and Android, it can be used on Windows and Mac as a desktop application, and it has extensions for Google Docs, Chrome, Edge, and Firefox.
Meeting Guidelines
Many times, authors are hired to create documents that must adhere to strict format and standardization. As a writer, it's critical to know whether the document you've prepared meets those requirements. When proofreading the text, it is extremely helpful if the grammar checker tool you use generates comprehensive statistics. Choosing a tool that helps you identify statistics like word count, paragraph length, and average reading time is crucial because of this.
Value for Money
Various pricing options are available for online punctuation and grammar checkers. Using some of the fundamental grammar checker tools is completely free; such as online correction. However, the majority of advanced tools either come with a free version with limited features or a paid premium or pro version. If you choose the longer subscription terms, the premium versions of these grammar checkers are generally cost-effective, depending on how frequently you write and need to review your work.
Features of the Software
Each grammar check tool has its own unique set of features. Before making a decision, think about what you require, how you intend to use the software, and the features offered by each option. Checks for grammar, expert spelling, sentence checker, writing style, punctuation, and originality are all offered by each tool. However, some tools include additional features like proofreading, vocabulary, and writing stats. Find the ideal solution among the best grammar checkers, make a list of all the features you require, and improve your writing.
Integrations with Third-Party Applications
If you want to use a tool to improve your blogging skills, make sure it works well with WordPress and other third-party applications. This is a feature that not all grammar check tools provide, and it could help you save a lot of time and effort. Grammar checkers like ProWritingAid and Grammarly, for instance, integrate with Google, Microsoft Outlook, and MS Office.
Final Thoughts
A reliable grammar checker exists for every industry and budget. You can reduce passive voice, reduce errors, and produce content that will engage customers, increase sales, and expand your business with the help of free versions of your copy. When picking a grammar checker, think about where you need it the most: do you want it to check emails, blogs, or just internal documents? Will it examine just the spelling or do you need suggestions for better content? Finding the best one for you will be easier once you have the features you want most.
FAQs
What are the best website spell checkers and Grammar tools?
Have a look at the post above to know about twenty best website spell checkers.
Are there any free Grammar and Spell checkers?
There are many tools which are free like Grammarly and HemingwayApp. Most of the paid tools also offer a free trial version.
Are grammar and spell check tools available as apps?
Yes, there are many grammar and spell check tools that are available in Play store and App store such as Ginger and WhiteSmoke.
NEWSLETTER SIGNUP
Sign up for Our Newsletter
MOST POPULAR
You came up with an incredible idea for a blog post. It got popular, liked and shared. So, whats next?...

Ever imagined that why your content writing skills are unable to drive results for the company? Regularly hundreds of content...

Blog
The word "wether" is one that spell check frequently overlooks, as people often confuse it with two similar-sounding words: "whether" and "weather." A single letter's difference between these words can easily go unnoticed while typing. Unless you're a farmer, you may not be familiar with the term "wether," which refers to a castrated male sheep,… Read more »

Content marketing is an effective strategy for building brand loyalty. By creating and sharing valuable and relevant content, companies can engage with their target audience and establish themselves as industry leaders. When consumers find value in the content provided by a brand, they are more likely to trust and develop a connection with that brand…. Read more »

Recent Tweets