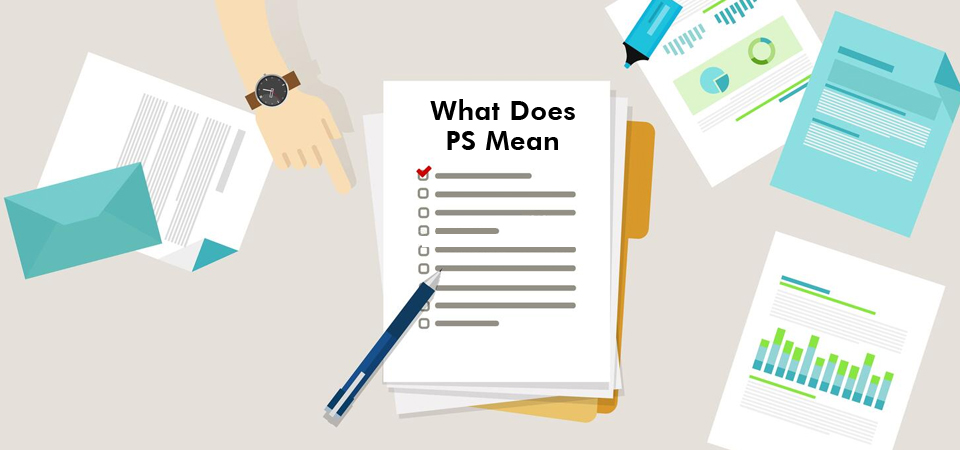 What Does PS Mean: How To Use it in Email and Letters
Content Marketing. - Leave a comment
A lot of professionals prefer to add an additional message to their emails or handwritten correspondence at the bottom. They do this by including a postscript (PS), which provides additional information that focuses on the subject of their main message. If you want to write emails and letters correctly, it might be helpful to learn more about how to use a PS. When writing an email, it's critical to use the appropriate voice and tone. You need to make a good first impression whether you're sending an email to a friend or trying to get new customers. A sales email may be formatted differently than a newsletter, but PS may still be included. This article explains what does PS mean, how to use it correctly, its advantages, and uses of a PS.

What does PS Mean?
PS is a shortening for "postscript" in English. The Latin word postscriptum is the source of this word. Post refers to "after," while scriptum refers to "written." It all means "written after" when combined. PS typically makes a comment reference at the conclusion of a letter. If a person forgot to include information in their letter, they could add a brief message and a PS at the end. Guest Blogging services often use PS in their outreach mails.

People can easily edit messages before sending them in today's digital world. Despite this, PS is still widely used for a variety of reasons, including the ability to draw a reader's attention or include a relevant note. People can also add PPS (post postscript) after PS, to add messages they have missed in PS. However, limiting yourself to just one PS can be helpful because it shows professionalism and emphasizes the message you want to convey.

How to Punctuate PS?
In British English, the format "PS" is suggested by the Cambridge Dictionary. According to the Cambridge Dictionary, the American English format for P.S. is "with periods after each letter". For sure, you'll frequently find it shortened as such in the US. However, PS, with no periods, is preferred by The Chicago Manual of Style. Utilization varies, and PS doesn't factor into most style guides. You can punctuate your postscript in any of the above ways unless your company has a specific style guide it wants you to follow. To keep your emails consistent, though, you might want to choose the same punctuation each time you use a PS. You should not add a comma after writing PS. It is considered grammatically incorrect. You can see below a number of punctuation options for PS, all of which are grammatically correct.

Why is PS Used?
Since PS is a great way to get the point across, many people use it in their emails. Involving a PS in a letter or email has likewise been a post office based mail promoting technique. It has been observed that many people only read the PS before opening a letter or email. However, people have begun to use it to include a call to action, provide bonus information, or share a testimonial in recent times. Additionally, you can use your PS to provide a succinct summary of your email, which may lessen the need for recipients to respond.

How to Use PS?
How to Use PS in Emails?
It is essential to decide how you want to use a PS before including it in your email. This means deciding whether or not to include a postscript message with your message. Although there are numerous uses for a PS, they typically convey a casual tone. Instead of sending it to your manager in a formal email, you could use it for a fun and upbeat email advertisement. Try asking yourself whether you have a formal or informal relationship with the recipient when deciding when to use a PS.

You can write the message for your PS after thinking about when and why you're adding it to your email. Postscripts are brief messages that typically address the email's subject. For instance, in the event that you are writing an email to your manager that contains a number of questions, your personal assistant might make reference to the question that is considered to be the most crucial in order to emphasize its significance.

Example of Using PS in an Email
You can use a PS to offer special deals to your recipients, and you can use a link to bring digital traffic to your website.

Dear John,
We would like to inform you that our brand-new collection of cookware is now available for purchase. They are available in our online store and at local retail establishments. The new line incorporates pots, containers and cooking plates. We hope you like our new items.

Thank you,
Silverware & Co

PS: To learn more about our new line of products and upcoming promotions please visit our website.

How to Use PS in Letters?
PS were originally used in letters. You can easily go back and edit an email, but you can't edit a letter that was written by hand. As a result, people started using PS in letters. Over time it became one of the trends to add PS to your letter, that people would use it for various purposes.

Example of Using PS in a Letter
Dear Grandma,
I greatly appreciate your letter you wrote me last week. Your message made my day.
Yesterday, I learned that the committee approved the topic of my thesis. Although I am ecstatic about this final stage, I will now be buried in research on the pathology work.
Your ladies' poker group finally getting to meet in person is exciting. I can't wait to hear everything your friends have to say.

Love,
Ruth

PS: Your meatloaf recipe was a huge hit when I made it for some of my friends.

PS Usage for Different Scenarios in Today's World
Leave a Call to Action
In order to ensure that your message is understood by the recipient, you can include a PS in your email. If they receive multiple emails daily, readers may skim the email's text because they typically expect the conclusion to be the last statement in the body. A PS can break up a recipient's monotony and focus their attention on important information. You could, for instance, include a clickable URL in your PS that links to the website that is selling your product.

Example: PS: Click this link immediately to get more personalized offers.
Emphasize the Main Point
You can also reiterate the main point of your email in a postscript. This is advantageous because recipients frequently remember the last sentence of an email the most. Readers are more likely to remember the most important point of your email if you reiterate it in your personal statement. If you're sending a business proposal to your manager via email, for instance, you might include a postscript that reaffirms the most persuasive aspect of the proposal.

Example: Please, do not forget to attend the meeting this time.
Convey Your Tone
You can personalize your emails by including a PS in them. This is useful for determining the tone you want to use in your emails. Postscripts are typically less formal, which, for example, can help show how much your business cares about each email recipient. A personal tone conveys friendliness, and a PS can assist in achieving this.

Example: You can reach out to our customer care service anytime, through call or Whatsapp.
Add Note Unrelated to Main Message
A postscript is a great way to include information that has nothing to do with the subject of the email. Without having to compose and send a separate email, you can add a brief note with this feature. For instance, if you want to praise a coworker for a particular achievement or highlight that achievement to other employees of your company. In a follow-up email that summarizes a meeting that your entire team conducted, you could write a PS that congratulates a specific team member on achieving a sales goal.

Example: Pet food is in the fridge, Tom needs to be fed at 7.
Have a Final Say
You can effectively end an argument with a couple of final lines using a postscript. Be as transparent as you possibly can. Your PS should make things clear about what your final say is on that matter. It has to be precise and to the point. Do not give any second chances and be firm on your message. It is a good way for professionals to appear assertive and ensure that they have made their point clearly.

Example: I am saying it for the final time, I am not interested in your calls.
Add Charm to Your Message
Start adding post scriptum if you are the fun type and want to give your recipient something they will enjoy. It allows you to personalize any situation in a small way. You can even add something sweet or funny. This type of PS is used for people who are friends and family and your letter carries a casual tone in its message. You could make use of this to personalize your interactions with family, friends, coworkers, clients, or both. Consider carefully how you can use this section to add personality to your letter or email.

Example: I am going to have such a great time that I will not be missing you guys 😛.
Express Sentiment
Post scriptum has always been an important part of love letters, so it should not come as a surprise. Even today, love letters without a touching PS, feel incomplete. To convey your deepest feelings, don't forget to include a postscriptum. Since it is a personal message there is no general as to what can or cannot be said here.

Example: Missing Tom already, tell him I will be back soon.
Offer Discounts and Deals
A final bonus for your readers of your email can also be added with a PS. This could be a special offer, discount, or deal that gives a customer who reads the entire email a reward. This could be a useful strategy for increasing customer base and revenue if you're marketing a service or selling a product. In your postscript, you could offer your customers a 20% discount code as an illustration of this.

Example: All orders are eligible for a 25% discount during this festive period for both premium and non-premium members.
Use PPS When PS is Not Enough
There are times when you need to add more than one afterthought to a letter. An additional postscript is spelled PPS. You can also write it as P.P.S. This is an indication that you have one more comment to add after a PS. You shouldn't get into the habit of doing this because it's extremely unusual. It might annoy your reader. It should not be used in a professional setting and should only be used for lighthearted personal messages with family and friends. PPS, which stands for post-postscript or after the postscript, is the correct form. PSS would indicate postscript script, or writing after writing. Since this makes no sense, it is incorrect.

Use of PS in Social Media
PS frequently appears in social media chats too. Participants may forget to share information during these fast-paced, real-time conversations. They can incorporate it later, thanks to PS. In this more contemporary form of communication, the postscript serves a similar function as an afterthought to the traditional letter. After the main conversation has ended, it allows participants to share information or an idea. PS is used in conversations on WhatsApp, Snapchat, and Twitter by the current generation.

Wrapping Up
Postscripts (PS) are still used in letters, emails, and texts, despite the fact that technology has mostly eliminated the need for them. Post scriptum, which comes from Latin, is a way to add more information after signing off. Even though the original reason for using PS no longer exists, it is still used in correspondence today. A PS function can be seen in chat inboxes, emails, and even some books. It is now used to emphasize a crucial point, draw the reader's attention, or provide a summary of the main body.
FAQs
Can PS be used for informal letters?
Yes, PS can be used informally too. It can be used to add sweet notes at the end.

What does PS mean in text messaging?
PS means Post Scriptum and is used to add afterthoughts when you forget to add it in your main message.

Where should PS be added, before or after the signature?
PS means Post Scriptum, as the name says, it is added after the script has ended. Your signature is a part of the script, so PS should be added after the signature.

NEWSLETTER SIGNUP
Sign up for Our Newsletter
MOST POPULAR
You came up with an incredible idea for a blog post. It got popular, liked and shared. So, whats next?...

Ever imagined that why your content writing skills are unable to drive results for the company? Regularly hundreds of content...

Blog
Content syndication refers to the practice of distributing published content through third-party channels. In other words, it allows businesses to share their articles, videos, podcasts, and other forms of content with a larger audience beyond their website. Not only does this help increase brand exposure, but it can also drive traffic back to the source… Read more »

Captivating readers from the very beginning is crucial when it comes to creating a successful blog. The introduction sets the tone for the entire piece, serving as a critical entry point for the reader. Unfortunately, many writers struggle to produce introductions that get the job done. Whether it's due to excessive length, lack of clarity… Read more »

Recent Tweets