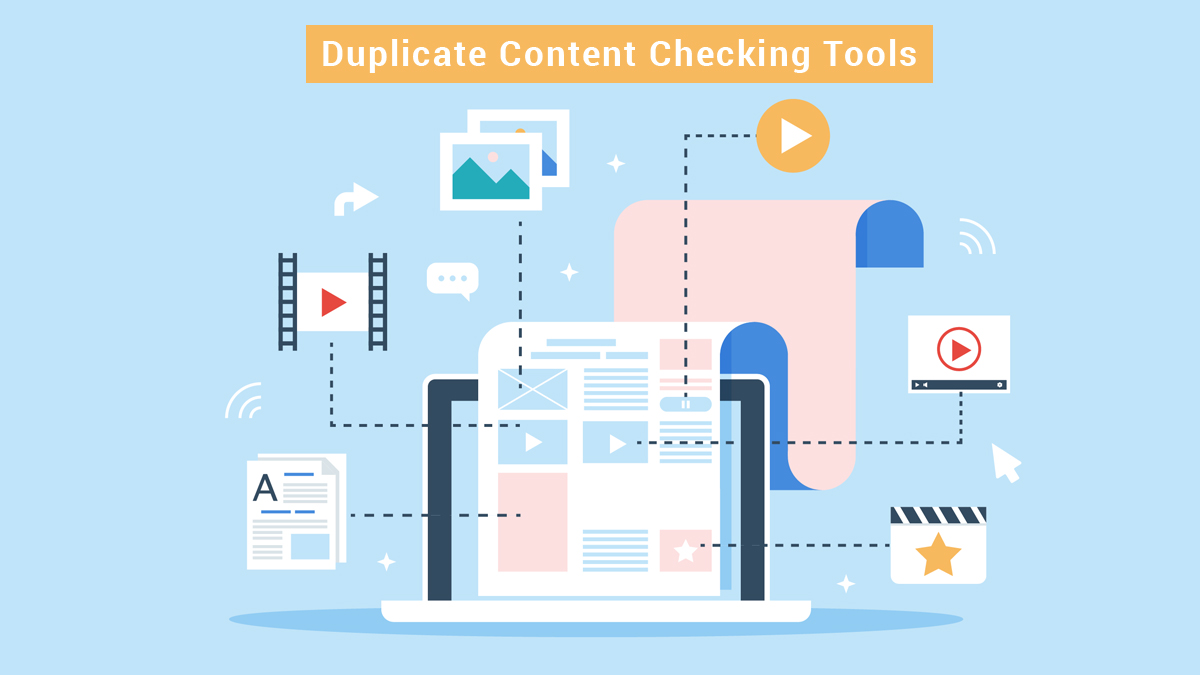 List of 8 Must Have Duplicate Content Checking Tools in 2023
Content Marketing. - Leave a comment
While common writing problems like punctuation, grammar, and language enhancement can be addressed with the assistance of tools for proofreading and editing services, it is difficult to address the widespread problem of plagiarism. Content creators, writers, researchers are deeply concerned about this unethical act. As a result, there is a high demand for duplicate content checkers to ensure the originality of your content. Plagiarism checkers can cross-check text for duplicate content. These tools aid in ensuring that written work is original and properly cited. Even if the original phrase has been altered, the most accurate plagiarism checker ought to be able to identify it. Additionally, the tool ought to offer a comprehensive and clear plagiarism report. In this post, we will take a look at some of the best duplicate content checking tools available.
What is a Duplicate Content Checker?
Duplicate content checkers are softwares that checks for plagiarism by comparing submitted documents to other content databases. Plagiarism checkers are used by writers and content creators to avoid accidentally plagiarizing their work, and organizations use them to ensure that documents they receive are free of plagiarized content. Educators and administrators use a variety of plagiarism-checking software designed specifically for academic use to examine written work submitted by current and prospective students.
These tools are also used by private businesses and organizations for a variety of purposes, most commonly to check for plagiarism in content written by current and potential employees. In order for authors to monitor their work for plagiarism while also avoiding grammar and spelling errors, plagiarism check software solutions are frequently integrated into other proofreading tools. In addition to other features, some AI writing assistants will include plagiarism checking functionality in their offerings.
What Does it Mean to Have Duplicate Content?
According to the Google Search Console Help Center, "Duplicate content refers to substantive blocks of content within or across domains. That either completely matches other content or are appreciably similar." A form of non-harmful duplication is adding content from another source to a definition or quote, as we did above. This is also true for e-commerce websites that provide suppliers with generic product descriptions. When this is done maliciously or multiple website pages host similar content, it becomes a concern. It influences the rankings of your pages and can be removed from SERPs.
Why is Duplicate Content Not Liked by Search Engines?
Multiple pages with similar content are not displayed by search engines; They show the website whose pages best respond to the query of the viewer. The term "duplicate content" refers to content that is identical across multiple URLs or locations. Search engines are unable to determine which page should rank highest on SERPs if the duplicate content issue persists. This may result in search engine penalties as well as a drop in your rankings. Using a content duplicacy checker can solve this problem. When selecting an online plagiarism checker, there are numerous options.
Why Should You Use a Duplicate Content Checker Tool?
Plagiarism is a criminal offense that cannot be excused. Furthermore, if you are caught, which is simple to do with the best plagiarism checkers, you run the risk of jeopardizing your professional standing, you may lose credibility among your clients and may also lose the hard earned ranking among SERPs. You must conduct in-depth research, create the structure, and adhere to the guidelines provided by Google or any other search engine. There are a lot of people who would rather avoid everything, and this is where things go wrong. You may not be intentionally plagiarizing. It could be because you don't know enough, don't manage your time well, don't know what plagiarism is, etc. However, by using an online plagiarism checker, this could be avoided easily. You can use duplicate content checkers for the following reasons,
It makes it easier to navigate by highlighting precisely copied content
Frequently, duplicate content checkers offer percentage matches
Plagiarism is thoroughly detected by openly available plagiarism checkers
They also identify incorrectly paraphrased content
List of Top 8 Duplicate Content Checking Tools

One of the best free online tools for detecting plagiarism is Duplichecker. It does the job well despite its lack of a fancy user interface. Nothing will be charged to you. Whether you use this free plagiarism detection tool once or intend to use it every day, you don't have to pay for a subscription. A layout is provided that is very user-friendly and does not require prior knowledge of plagiarism detection tools. It allows you either to transfer a Docx or Text document from your PC or reorder your text into the field and have it checked for plagiarism. Duplichecker gives you admittance to 50 literary theft checks each day assuming you pursue free. If you don't sign up for free, you can only check for plagiarism once a day.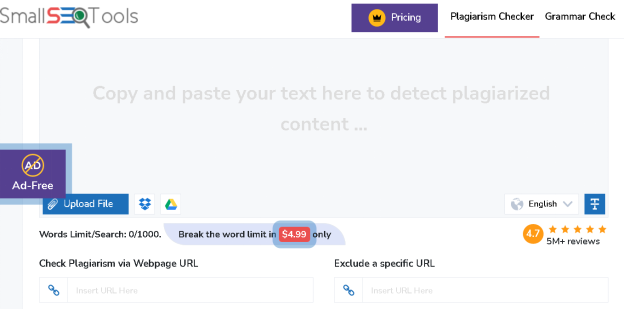 Smallseotools is best for checking spelling and grammar, counting words, rewriting articles for content reuse, changing the case of text, and so on. Additionally, there are tools for website tracking, backlink and keyword analysis, and other tasks. This is a comprehensive tool for a variety of website optimization techniques. The intended users of the tools are website owners. This tool allows you to check 1000 words per search. You can copy and paste content, enter URLs, and upload documents from Dropbox, Google Drive, or your local drive. To use this tool, you don't need to sign up.

Utilizing an advanced algorithm, Plagiarismdetector.net seeks out duplicate content. Word-decision, lexical frequencies, and matching expressions are used in the application's content analysis. This tool will run the text through millions of websites to look for copied content. Support is provided for documents saved in the.txt,.doc, and.docx formats. Use platgiarismdetector.net with students, teachers, and writers. Because it supports full encryption, the software is ideal for individuals who are concerned about the security of their data. You are able to check up to one thousand words at a time with the free basic version of online plagiarism software. The Expert rendition works without promotions and has no word limit.

Copyscape is regarded as one of the most useful and effective tools for detecting plagiarism. You can just enter the URL of your substance into the Copyscape plagiarism checker. It can also tell you how much of your website's content has been copied. It is a fascinating tool because it not only reveals which parts of your page have been copied, but also where. Click on any of the URLs, and a detailed report with sentences featured in red of the replicated content is shown in a separate tab of your browser. Email notification of the outcome is available. Included is a WordPress plugin. A "private index" can also be set up to ensure that any new content added to the system passes a plagiarism check on autopilot. There is a free version, and the premium version lets you check up to 10,000 pages.

By adding the URL of the website, you can use Siteliner to check the website for duplicate content. The tool checks for plagiarism on each and every page. It looks for duplicates by running an internal scan of each page on your website. The results of "your pages" and "your top issues" are shown in the report. Duplicate content and comparisons with other site results are displayed beneath your pages. When you click the duplicate content, the sites with duplicate content and their percentage are shown in a new tab. You can use Siteliner to find broken links on your own website. To locate them, go to the "Broken Links" tab and click through to the page where the broken URL is highlighted. Then you can either change the link or redirect the broken URL.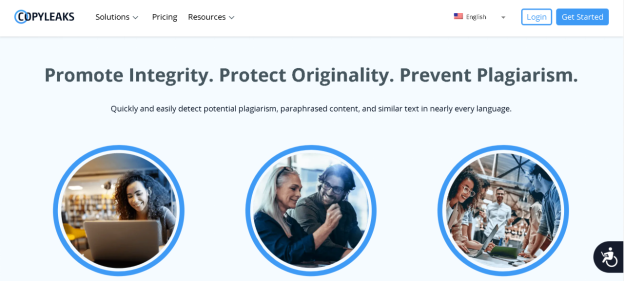 With this cloud-based authentication platform, you can track how eLearning content is used all over the Internet. There are a number of educational and business-related sections on the platform. The business section focuses on SEO agencies and publishers, while the education section focuses on schools, students, and universities. It can look at content in any Unicode language and in any record configuration. You can search the Internet for eLearning content that has been copied using Copyleaks' API tool. You can use it to check for plagiarism while working on a Microsoft Word document by using a mobile app and an MS Office add-on. To utilize this tool you should initially make a free account and it is free for just the initial ten pages.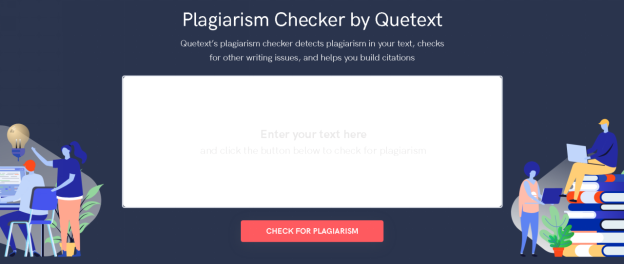 Quetext, an advanced plagiarism detection tool, is beneficial to educators, students, bloggers, and website owners alike. The online tool provides support for the sophisticated DeepSearch method, which uses sophisticated algorithms to perform word placement and contextual analysis. The tool grades and examines the content, revealing the quantity of copied content. Best for checking websites, academic sources, and news sources for plagiarism for free. In the basic version, free features include five free tests, fuzzy matching, color grade feedback, contextual analysis, and conditional score.

PaperRater is a free plagiarism detection tool that is used in over 140 countries and can be used for a variety of purposes. If you need to check your text for plagiarism, have it edited with new wording suggestions, or check for grammar errors, this is the tool to use. PaperRater boasts quick and accurate results because it was developed by a group of computational linguists and subject matter experts. Free services include automated scoring, a grammar and spelling check, a tool for writing suggestions, and submissions of up to five pages. Using Artificial Intelligence and Data Science, the data is analyzed in real time, with results appearing 5–15 seconds after it is submitted. The cloud-based software from Paperrater checks the syntax and structure of your text without you having to register, log in, or download the software.
The Benefits of Duplicate Content Checkers
Distinguish and Limit Plagiarism
When you check duplicate content with a plagiarism checker, you can identify and reduce various forms of plagiarism, such as:
Accidental Plagiarism
ParaphrasedPlagiarism
Complete Plagiarism
Identify Competitors Copying Your Content
You can find competitors who have copied your content by conducting an audit for checking duplicate content. You can report it to Google, get the pages blacklisted, and direct quality traffic to your web pages after making the report and highlighting the issues.
Improve Duplicate Pages
Many businesses and marketers face the challenge of duplicate content on internal web pages. You are able to identify the copied content and develop strategies for resolving it, regardless of whether it is deliberate or accidental plagiarism.
How to Utilize a Duplicate Content Checker Effectively?
If you want to be sure that your content is not being stolen, scraped, or duplicated, you should check for duplicate content on a regular basis. The majority of internal duplicate issues can be resolved. You can get in touch with the website or websites that are using your content without your permission for external duplication issues. A DMCA badge can also be obtained by registering. Each site they remove that has copied your content will cost you money. Additionally, displaying this badge on your website will discourage content copying and scraping.
Tips to Choose the Best Duplicate Content Checker
Multiple plagiarism checkers with varying features abound on the internet. How do you choose the best plagiarism checker for your work? Here we examine the points to consider prior to choosing a duplicate content checker tool.
Cost
While there are a few free tools accessible on the web, they are not as advanced as paid ones. Generally speaking, they don't recognize duplicate content from all sources. Paid plagiarism checker tools, on the other hand, frequently provide comprehensive plagiarism checking across multiple databases in addition to advanced features like spelling and grammar checks, the ability to calculate the document's authenticity score, and integration with websites and third-party applications.
Accessibility
Our work should be made simpler by digital tools. However, at times, tools can make our work more difficult. Subsequently, having an easy to understand tool is fundamental, particularly while searching for a speedy and simple method for checking your content. Many tools have the ability to integrate with your default app and can provide quick results without you having to check manually each time.
Scope
It is essential to ascertain the tool's scope and alignment with your requirement. It must be clear whether you want a standalone duplicate content checker or a suite of writing and proofreading tools that are more comprehensive. High level composition and language improvement features that go past copyright infringement identification are additionally presented by some duplicate content checker tools.
Also Read
To Conclude
These are the best duplicate content checkers for writers of all kinds and in all media. Which one works best for you depends on your writing style, work routine, and interests. Utilize them all by combining the tools. Choose a tool that does everything if you also need grammar checkers and writing assistants. We have also discussed the advantages of using a plagiarism tool and steps to find the right tool for you. We hope this post will help you in finding the right duplicate content checking tool for your content creation endeavors.
FAQs
Are duplicate content checkers accurate?
The plagiarism checker you use determines the accuracy. A lot of free plagiarism checkers either don't detect all plagiarism or they mistakenly label text as copied. It is advisable to go with standard and known tools.
What are some good free tools for checking for duplicate content?
Numerous useful free duplicate content checker tools are available. Copyscape, Siteliner and Duplichecker are a few of them.
Who can use paid tools to check for duplicate content?
Paid tools, which typically offer more robust and advanced features, typically serve professional writers, academic professionals and students, and businesses in need of a comprehensive solution for improving their writing.
NEWSLETTER SIGNUP
Sign up for Our Newsletter
MOST POPULAR
You came up with an incredible idea for a blog post. It got popular, liked and shared. So, whats next?...

Ever imagined that why your content writing skills are unable to drive results for the company? Regularly hundreds of content...

Blog
Content syndication refers to the practice of distributing published content through third-party channels. In other words, it allows businesses to share their articles, videos, podcasts, and other forms of content with a larger audience beyond their website. Not only does this help increase brand exposure, but it can also drive traffic back to the source… Read more »

Captivating readers from the very beginning is crucial when it comes to creating a successful blog. The introduction sets the tone for the entire piece, serving as a critical entry point for the reader. Unfortunately, many writers struggle to produce introductions that get the job done. Whether it's due to excessive length, lack of clarity… Read more »

Recent Tweets